Brix, Pest attack and Plant Health
Farmers across India are under utilising a device which as be used as a Fertility meter and give you greater and deeper insights into the health of your crops !

We mostly use Brix meter at harvest where as it should be used on almost daily basis – Twice a day at least if you really want to make the most of it.

A higher sap brix level is what every farmer should target once you seriously start your Nutrition Management Program.

After the sap is extracted and 2 drops put on the brix meter there are the following things a farmer can infer from it :

A lower brix level means lower plant health has been comprised and it won't give the expected yield, quality, taste and sweetness. 
If you are finding pest attack happening quite frequently or if your insecticides, herbicides, fungicides consumption has gone up – your brix level will be pretty low than what it should actually be.
If the minerals and sugars are moving perfectly well inside the plants system it is an indication that your Xylem and Phloem are working efficiently. This will show a higher brix level of the leaf sap.
A higher brix means your plants are ready to fight Climate Change – they can fight drought & frost better.
The reason why every farmer should be using the Refractometer at least twice a day – Morning & Afternoon is because morning reading should be lower than afternoon reading. The reason is sugars move into the roots at night and this gives a lower brix reading.

So what is A Good Brix Reading for your Crop ?

Here's a Chart for several Fruits & Vegetables by Dr. Carey Reams which should be referred by every farmer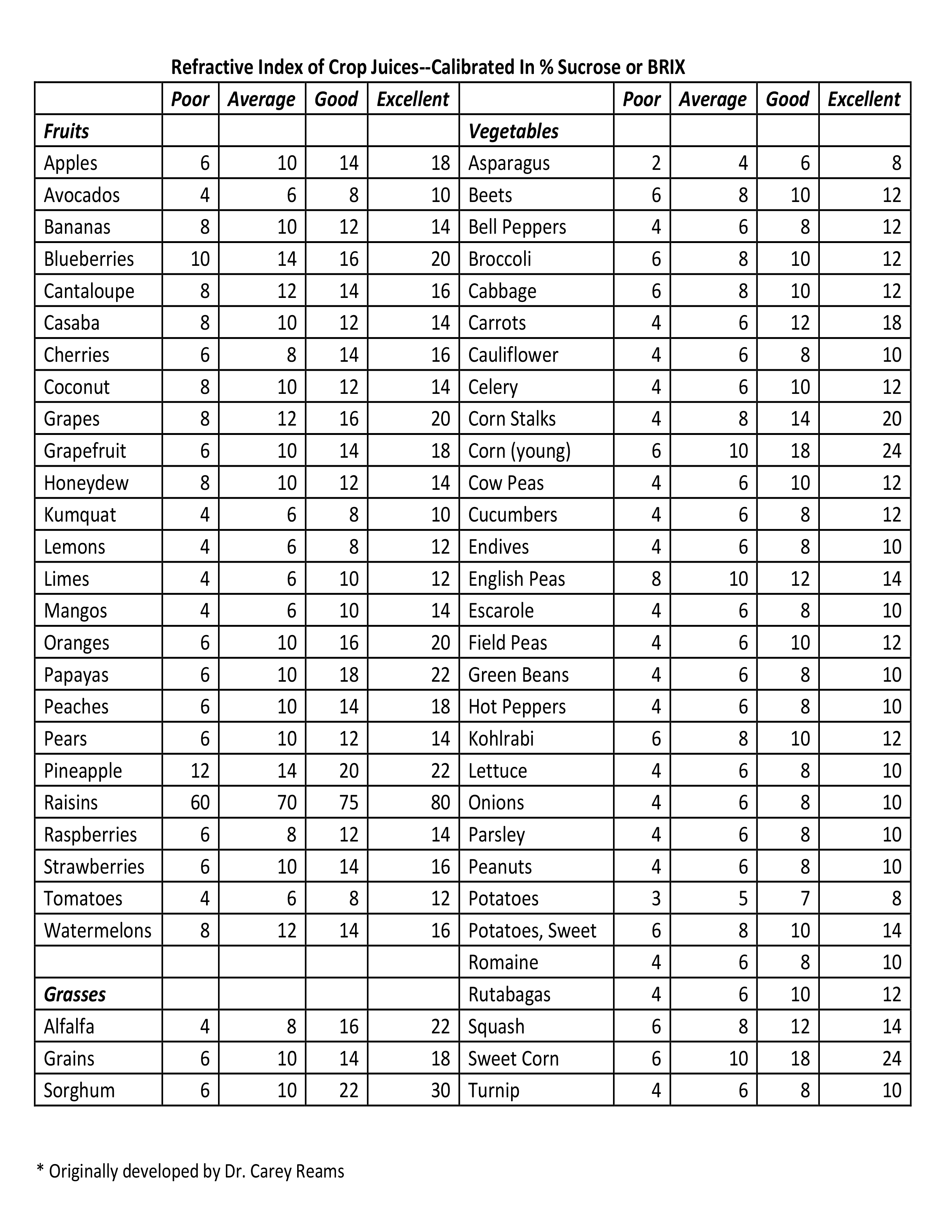 ---
I write this post only to propagate the usage of Brix Meter in a way that will ensure good crop health, better quality produce for farmers.That's what fetches you the price after all !

The wheel was already invented by Dr. Carey Reams, I'm doing the job of making it move faster. 

Get juicing your leaves, after all its just 2 drops that makes a huge difference !