Description
Jain Irrigation journey of working with farmers continues with a focus on small farmers. 
Among the small farmers too, majority are without an independent water-source and their land-holding is less than 1 acre. Such tiny holdings are also fragmented & located in more than one place, independent water-source and electricity is also not available to these farmers.
Jain DripKit will address all these constraints and will empower the small farmers with a scientific, durable and simple-to-operate Irrigation System. 
The most modern Micro Irrigation System : Drip Irrigation System which operates on gravity pressure.
Jain DripKit helps to maintain favourable soil moisture conditions to the plants which results in good growth & bumper yields.
Applications of Jain DripKit :
• Mainly suitable for cultivation of vegetables. Can be used for cereals, pulses, cotton and other closely spaced crops.
• Can be used for irrigation in open fields, Green house/ Net house and nurseries.
• Suitable for Kitchen Gardens and also Himalayan / Hilly (Terrains) where land holding is very small.
• Useful as a survival irrigation tool in rained area or water scarcity region or when there is a prolonged gap between rains & / or electricity is not available.
Advantages of Jain DripKit :
• No electricity required, operates on gravity.
• Easy to install – Do it yourself.
• Portable system, can be easily shifted.
• Affordable drip systems for small farmers.
• Ideal for tiny & small farmers.
• All items are supplied in one box – Easy to carry.
In this kit (10 sq. mtr) :
This DripKit is suitable for 60 plants.
1. 2 way adapter for taper O/L drip – 6 nos.
2. Barbed Elbow 16mm – 2 nos.
3. Lateral end stop "8" shape, 16mm – 5 nos.
4. Barbed Goof Plug 2.9mm – 5 nos.
5. Barbed poly joiner 16mm – 2 nos.
6. Threaded Adaptor – 3/4 x 16mm – 1 no.
7. Jain Drip Inline Filter 16mm – 1 no.
8. Tube Hold Stake Clip 16mm – 5 nos.
9. Mini Valve 16mm x 16mm – 1 no.
10. Polytube plastic punching pin – 1 no.
11. Barbed poly tee 16mm (equal) – 5 nos.
12. J-Turbokey Plus Dripper 4 LPH – 15 nos.
13. Labyrinth Statek 4-way Assembly 75cm – 15 nos.
14. Tube OD 16mm CL2 – 20 mtr
THE CONCEPT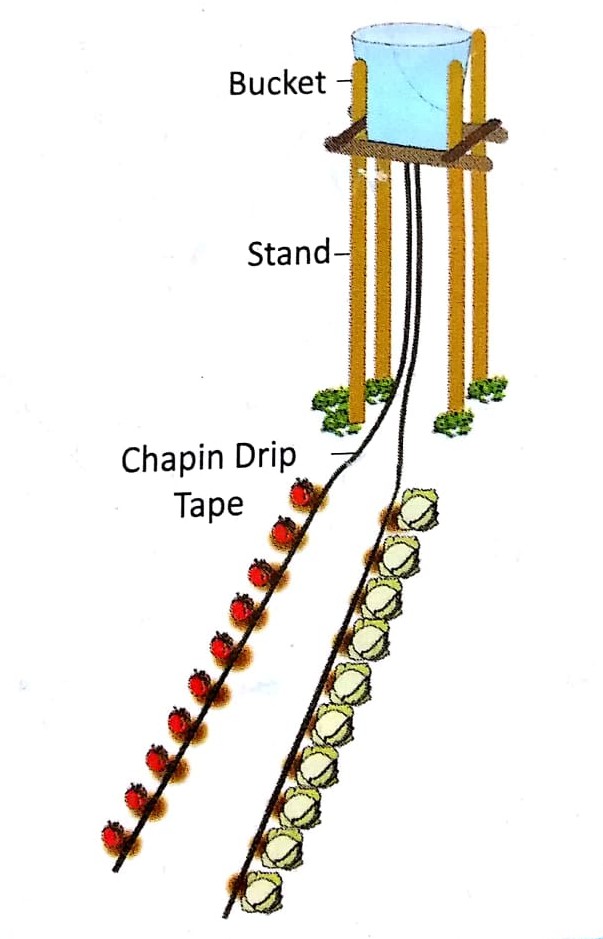 LAYING OUT SCHEMATICS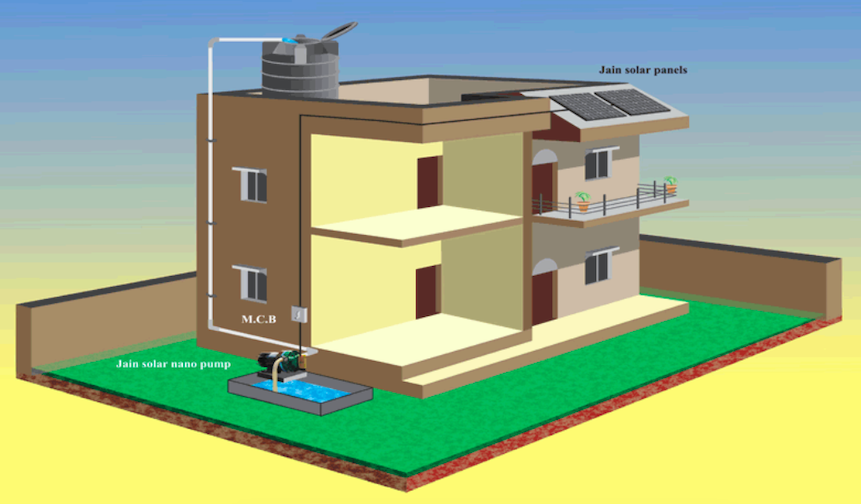 IN THE FIELD